Static Discharge Grounding Reel, Static Grounding Clamp Manufacturer, India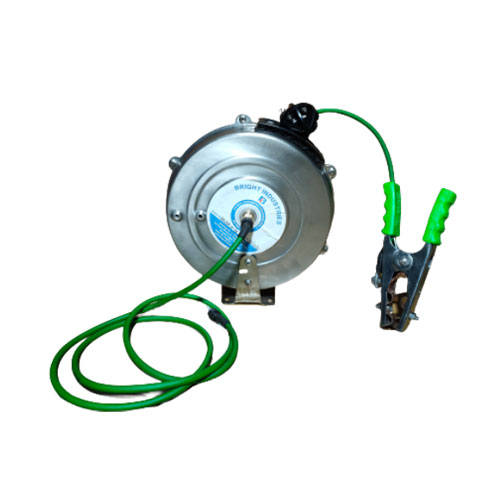 Bright "Static Discharge" cable reels are designed to be robust and offer a high durability. Your grounding application needs can be perfectly satisfied by BRIGHT Static Discharge Grounding Reels. Grounding is essential to neutralise static load in dangerous environments, such as refuelling operations, to ensure safety. Our reels are intended for usage in areas that are flammable where static accumulation could cause a spark and subsequent explosion. Therefore, it is imperative that you take precautions against the risks connected with static electricity in order to protect workers, valuable equipment, and property from harm or damage.
Market's choice BRIGHT make Static Discharge Grounding Reel to reduce equipment static buildup & will keep delicate working conditions safe. Superiority & Quality counts each and every time.
Concept and Structure
Compact static discharge cable reels are available with hand crank retraction or Auto rewind options .
Frequently used in conjunction with fuel reels and for grounding in flammable environments
Used to safeguard equipment working in high risk environments
Reduces the chances of sparking and the risk of explosion by dissipating static electrical buildup
Multi-position non-sparking lock ratchet mechanism secures cable at desired length
Reel includes 100 Amp grounding clamp, Ball stopper, and cable.
Features
HDD Steel grade heavy duty construction
Strength & safety are provided by curled edges & reinforced discs.
Multipurpose guide arm can be mounted on a wall, the floor, the ceiling, or on a vehicle required position.
Leading 1-year manufacturer's limited warranty
Made in India. - Supplied and backed globally
Application
Fueling Systems
Transfer & Pump Stations for Fuel
Fueling Wheels, Containers, and Trucks
Marinas & Harbors
Refueling of Agriculture and Farm Equipment
Bases & Mobile Operations for the Military
Specification
| Model No. | Cable Length (Mtr) | Material Of Construction |
| --- | --- | --- |
| BI-SDR-05-CS | 05 | Carbon Steel with Powder Coated |
| BI-SDR-10-CS | 10 | Carbon Steel with Powder Coated |
| BI-SDR-15-CS | 15 | Carbon Steel with Powder Coated |
| BI-SDR-20-CS | 20 | Carbon Steel with Powder Coated |
| BI-SDR-25-CS | 25 | Carbon Steel with Powder Coated |
| BI-SDR-30-CS | 30 | Carbon Steel with Powder Coated |
| BI-SDR-05-SS | 05 | Stainless Steel 304 |
| BI-SDR-10-SS | 10 | Stainless Steel 304 |
| BI-SDR-15-SS | 15 | Stainless Steel 304 |
| BI-SDR-20-SS | 20 | Stainless Steel 304 |
| BI-SDR-25-SS | 25 | Stainless Steel 304 |
| BI-SDR-30-SS | 30 | Stainless Steel 304 |
Cable Details
1cx 4 & 6 sq.mm copper & single 7X7 stranded steel